Important Points About Us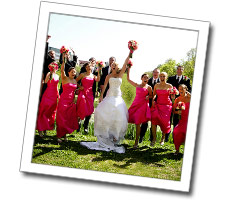 While there are many entertainment options in Southwest Michigan and Northwest Indiana for your event, our decades of experience and many satisfied clients mean that our focus is always upon you ... and your event! Please contact us with any questions.

• Your Big Event ...
Will be carefully planned in advance with you, customizing the music play list along with the activities of your Event to meet your expectations. Our number one goal is that your event proceeds smoothly and enjoyably from start to finish.
• Seasoned Professionals ...
Jammin' with Jerry disc jockeys and emcees are experienced professionals who know how to motivate and entertain your guests. We pay close attention to the details so you can relax and enjoy yourself. Let us do the work, while you enjoy the celebration!
• Playing Your Requests ...
We play the music that you and your guests want, at a volume level that suits the venue. We accept requests and will incorporate these selections into the music program. Having trouble picking that first dance song? Our Song List includes many popular first dance songs.
• Only the Best Music ...
Jammin' with Jerry provides our clients with the most complete CD music libraries available, over 25,000 hits in all! Our libraries include the very best of: POP, TOP-40, DANCE, BALLROOM, BIG BAND, JAZZ, CLASSIC ROCK, OLDIES, DISCO, R&B, COUNTRY, FUNK, CLASSICAL, REGGAE. And more! We have the best music!
• State-of-the-Art Sound and Lighting ...
Our clients benefit from our state-of-the-art sound systems engineered to produce concert quality sound in almost any venue. Wireless microphones are standard. Our lighting systems create elegance and do not interfere with the photography or videography. WOW!!
• Jammin' with Jerry ...
Provides the most professional entertainment for your Event! There is no doubt that many event planners are choosing Disc Jockeys to handle the music and Master-of-Ceremonies for Wedding Receptions, School Dances, Corporate Parties and many other events. Our DJ's have the enthusiasm, professionalism and the ability to present the music proven to be at the top of the list and ideally suited for your Event.

Organization is a necessity at any event. Our DJ's can handle all necessary formal introductions and announcements while coordinating the timing, and ensuring that everything is properly organized. At Jammin' with Jerry, we serve this important role with distinction. Of course every reception is different so you have the choice of how interactive you want your DJ to be.

Congratulations to you on your big Event. We look forward to working with you!